At this point, talking about "Android phones have a serious problem, and that's getting big Android updates," has become obsolete and repetitive. So far, many have written about this problem and there are few people who do not agree that it is a problem. But now the reason we want to talk about it again is Apple's recent launch of iOS 14.
This week, Apple officially unveiled the latest version of its operating system for 2020, and all iPhones from iPhone 6S onwards are expected to receive it. For comparison, the iPhone 6S was introduced in September 2015, and now, five years later, it will still receive the latest iOS updates until June next year, when iOS 15 will be introduced. To find out how old the iPhone 6S is, the best movie of the year was Star Wars: Episode VII – The Force Awakens. At that time, Barack Obama was still President of the United States, and the popular and hot series of those days was The Walking Dead.
Even though it's an older iPhone 6S, Apple is still offering iOS 14 so that users can use their old phone for another year.
Meanwhile, the best flagship of 2016, the Samsung Galaxy S6 , has been the latest update for Android Nokia, or Android 7. The same Android 7 was introduced in 2016, but Samsung released the update for the Galaxy S6 in 2017, and this was the last Android update for this phone.
Just imagine for a moment that Samsung is announcing that the Galaxy S6 is set to receive an Android 11 update . Of course, Samsung isn't so loyal to its old products and users that it wants to make Android 11 ready for them, but on a competitor's ground, Apple is still as loyal to its old users.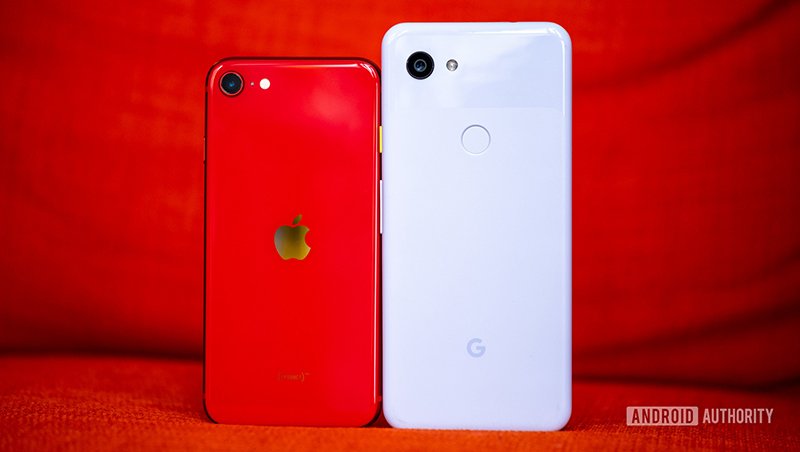 This comparison is definitely not true, but it is still painful
As we've said before, we've covered the fact that Android is weak in updates over and over again. It's also clear to many of us how different Android phones and iPhones are, and that's why iOS 14 is now available for Apple five years ago.
In other words, we know that the differences between the two platforms are so great that this analogy is not the right analogy at all. There's really no level of coordination between the operating system and the hardware of Apple's products in the Android world, as different processors are used by different companies to make Android phones, and eventually another company called Google produces the operating system for all of these phones. On iPhones, they are made by a company and by Apple. However, it is still painful that the iPhone received the iOS update today five years ago, but the Android phones five years ago did not receive any updates for two or three years!
We don't care how much iOS 14 mimics the features of Android. The new features of iOS 14, such as widgets, or the ability to display images in the image, or a list of all apps and change the default applications of the operating system, are the things that Samsung Galaxy S6 has had since day one, and now a new feature for all iPhones. comes.
But iOS 14 is more than that; New security features, new iMods capabilities, and other small and large items that meet the 2020 standards can be found on the iPhone 5 years ago. As much as we've seen some of the features of today's iOS 14 on older Android phones, we still can't deny the fact that even Apple's phone five years ago is finally "getting" these features. On the other hand, even if you spend a thousand dollars today to buy the best Samsung phone for this year, at best Samsung guarantees that you will receive Android updates in two years.
If iOS 14 was Android 11.
No matter which side of the "iPhone vs. Android" you are discussing, you certainly know the strengths and weaknesses of your favorite operating system. Android users know that they have changed the software updates with more control over the user experience of their phones, and on the other hand, iPhones know that they have blocked a variety of different phones to have a smooth user experience in Apple's ecosystem.
However, the only thing that prevents companies like Samsung, Xiaomi , LG, and even Google itself from providing software updates are the companies themselves. Google in particular; The company has no logical excuse not to update the first generation of Pixel phones to Android 11 or even Android 12. However, Android 10 is the latest update officially released for these phones. If Apple can launch iOS 14 for its handset five years ago, the first generation Pixel will definitely be able to run Android 11.
To finish this article, let's take a look at the list of the best Android flagships we saw in 2015 and beyond. Of course, these phones, like the iPhone 6S, can get the latest generation of their operating system, but unfortunately their manufacturers, like Apple, are not loyal to the users of their old phones.
The family of Samsung Galaxy S6 phones
Samsung Galaxy Note 5
Google Nexus 6P and Nexus 5X
Google Pixel and Excel Pixel
Xiaomi Mi Note Pro
Sony Xperia Z5, Xperia Z5 Premium and Xperia Z5 Compact
LG G4 , G5 and G6
HTC 10
LG V10, V20 and V30
OnePlus 2, 3, 3T, OnePlus 5 and 5T
Moto Z2 Force
Razer Phone and Razer Phone 2
Samsung Galaxy Note 8
Samsung Galaxy S8 and S8 Plus
Redmi Note 4
Motorola Moto X4